Fine Art Prints On Demand
In order to make more of Martin's art available to more people, we've now set up a print-on-demand service for select paintings.
The prints are sold through Saatchi Art and Fine Art America, both in the United States. These sites were chosen for a number of reasons; the top two being that they're highly regarded and recommended by other artists, and that they have high-quality prints.
These open edition prints are available on paper or canvas, with options for framing on some sizes. The sizes shown here are approximate, and are for the image size, not the paper size. Prices shown here are in Canadian dollars, and are also approximate - based on the exchange rate at the end of September 2015. Prices for Saatchi prints are for Fine Art Paper. Prices for all prints at Fine Art America are for Cool Tone Picture Rag, Somerset Velvet and Watercolour papers. We recommend these for the best quality.
Download a more detailed PDF catalogue here.
A limited number of True Story signed and numbered prints are also still available. Details below.
Click on any of the images below to view a larger version.

True Story Signed and Numbered Prints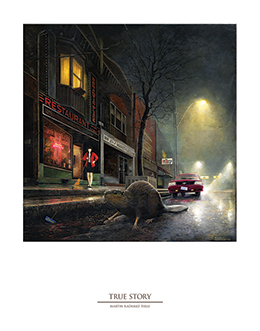 True Story Print
Print (paper) size: 22" w by 28" h
Image size: 18" w by 18" h
Limited edition print (100 only)
Signed and numbered
on archival watercolour paper
Unframed
Price: $120.00
Plus shipping where applicable.
Click on the poster to view a larger image.
To order a print, visit the Six Shooter webstore.
"This painting evolved from pictures I did for Melissa McClelland's album Thumbelina's One Night Stand. It started as collaged drawings glued to board, followed by watercolour, gouache and ink, and then finally oils. It lived with me for many years and is very thick and worked over. At one point it was almost black. It's a record of, and a tribute to, a place and time that doesn't exist anymore. Ashtrays, not cellphones.
The Inter-Steer has been my living room since the mid-90s. An affordable place on Roncesvalles where I would not run into any fellow musicians. A Polish bar haunted by people of all ages. It is a strange thing to me that, particularly in North America, people of different vintages generally don't commingle voluntarily. It was immediately more comfortable to me because it was less polite and more straight up than most places in Toronto, and in this reminded me of my hometown in Italy: tough but fair, accommodating and a little outside of the law. In long periods when I had NO money, imaginary (credit) or otherwise, Eva (pictured in the painting) would kindly float me and I am forever indebted to her. A big Kolbassa on a plate with bread, sliced cucumbers and tomatoes.
What started as a place I went to be alone (I wrote many a song there) slowly became a meeting place and the focal point of many friendships and foggy adventures. The vortex. Many strange coincidences.
One night somewhere around the turn of the century I was sitting by the front window nursing a Zywiec and probably contemplating a shot of Krupnik. Over my friend's shoulder I saw a dark shape low down on the sidewalk outside. It was a Beaver. A full grown Beaver. I declared this to the bar - to blank stares. "There's a huge Beaver on Roncesvalles!" What do you say?
None of the appropriate animal institutions would deal with our Beaver as it wasn't injured... yet. I followed it all the way out towards Dundas and wished him/her farewell.
True story."
- MRT
Note: The new Inter-Steer Tavern opened a few doors down from the original location in 2007. The painting hangs beside the bar there, at 357 Roncesvalles Ave, Toronto.
Updated May 12, 2016.